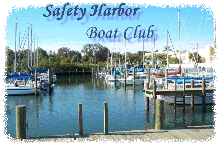 The mission of the Safety Harbor Boat Club (SHBC) is to promote safe boating, neighborly conduct, training classes, and family orientated social gatherings. The SHBC is open to all persons. SHBC prides itself on being a club for novices and seasoned experts alike.
It is not necessary to own a boat, be a resident of Safety Harbor, or be a member of any other organization to join SHBC. The only requirement for Club membership is that members enjoy boating in any form. Sailboats, power boats, dingies, kayaks, rowboats, and pedal boats are all equally welcome.
Monthly meetings are now back at the Safety Harbor Public Library after its being remodeled, are casual, with only the necessary minimum Rules of Order used to dictate procedure. Only dues paying members are allowed to vote, but non-members are encouraged to attend. Click on the "Activities & Meetings" menu button for more information.